Girls with Slingshots Guest Strips!
on
May 31, 2014
at
1:31 am
Hey all!
So you've probably heard the news by now… Danielle Corsetto of the super popular webcomic Girls with Slingshots is going on a big ol' roadtrip and she needed some guest artists to fill in some comics while she was gone visiting fans all over USA. I approached her at Calgary Comic Expo expressing a WHOLE LOT of interest in being one of her guest artists (considering there was an open call when she first announced it!) and she liked my stuff enough to have me be one of the artists! So hang on to your knickers, children! Because I got a whole week's worth of guest strips prepared and you won't know what hitcha!
If you're a huge fan of Girls with Slingshots and Danielle Corsetto, or even Woo Hoo! and my artwork, please consider donating to Danielle's Kickstarter!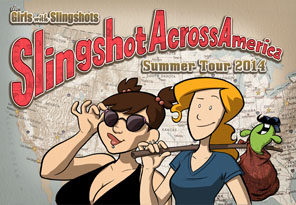 Now, I'm already getting paid to do the strips, but the more you donate, the bigger the share of extra bucks all guests artists get for contributing. My con schedule is quite scarce this year, so every little bit helps me right now pay off some debts. So thank you to all who have donated so far, and thank you in advance to all future donatees!
My strip will involve a cute honeymoon-esque trip between Mimi and Thea, so watch out for the strips this upcoming July!
Cheers!
Jak <3